---
Stuffed Steam Rice Wrapper Rolls
---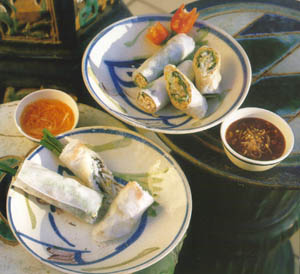 Ingredients

Stuffing
1/2 cup dried wood ear mushrooms
water to cover
2 tbsp vegetable oil
8 shallots, chopped
1 clove garlic, crushed
1 cup finely diced preserved white radish
300 g minced prawns
Fresh Rice Flour Wrappers
1 cup rice flour
3 cups water
salt

Garnish
1/4 cup coriander leaves
1/2 cup fried shallots
1 red chilli, shredded


Preparation

Stuffing
Soak the wooden ear mushrooms in water for 1 hour, drain and dice.
Heat oil in wok and saute the shallots, garlic, radish, shrimp and musrooms until.
Set aside

Wrappers
Mix flour, water and salt to form the batter.
Fill steamer two-thirds full of water, double and stgretch anpiece of cheescloth tightly over the top and secure it with string.
When watger begins boiling, brush the surface of the cheescloth with oil, pour on a small ladel of rice flour vbatgter and spread it around in a circular motion.
If possible, co ver with an inverted bowl or lid, and leave for a few moments.
Remove the steamed fire flour wrapper with a spatula, carfully lifting up at the corners.
Repeat until all the batter is used.
Set the wrapper on a smooth surface.
Place roughly 1 tbsp of filling on the wrapper.
Roll up gently.
Granish with coriander, shallots and chilli.


Peanut Sauce

Ingredients
1 clove garlic, finely siced
2 tsp vegetable oil
100 g prok or chicken liver
1 tbsp red chilli, finely chopped
1/2 cup yellow bean sauce (see below)
1 stem lemon grass, finely chopped
1/4 cup coconut milk
1 tsp sugar
1 tsp salt
2 tbsp tamarind juice
1 cup peanuts, finely ground

Preparation
Saute garlic inoil until soft.
Add liver, chilli, yellow bean sauce, lemon grass, half the coconut milk, sugar, salt, tamarind juice and peanuts.
Bring to the boil.
Remove from the heat.
Blend in a food processor.
Add remaining coconut milk

Yellow bean sauce

Ingredients
1 cup yellow beans, boiled and drained
2 tbsp coconut milk
2 tbsp ground peanuts
2 tbsp sugar
3 cloves garlic
1 medium red chilli
1 stalk lemon grass
2 tbsp vegetable oil

Preparation
Combine all ingredients, except oil in a food processor.
Blend until finely chopped and well combined.
Heat oil in pan, stir fry al ingredients and simmer for 2 minutes.
Cool before serving


Fish Sauce Dip

Ingredients
1/4 cup water of fresh coconut juicde
1 tsp rice vinegar
1 tsp sugar
1 red chilli, seeded, finily chopped
2 cloves garlic, crushed
1 tbsp lime juice
2 tbsp fish sauce

Preparation
Boil water or coconut juice with vinegar and sugar.
Allow to cool
Combine cuilli, garlic, and lime juice and add to the coconut mixture.
Stir in the fish sauce
Try adding shredded radish and carrot pickles as a variation


Recipes by Trieu Thi Choi and Marcel Isaak
taken from
The Food of Vietnam
Authentic Recipes from the Heart of Indochina
Periplus World Cookbooks
Published by Periplus Editions (HK) Ltd.
---