Ispanakli gozleme
Spinach-filled Anatolian Flat Bread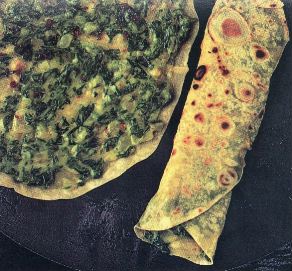 For the Dough
120 g strong unbleached flour
1/2 tsp salt
1 tbsp olive oil or melted butter
60-90 ml lukewarm water

For the Filling
1 large onion, chopped
3-4 cloves garlic, crushed with salt
knob of butter
225 g fresh spinach, chopped
1/2 tsp kirmizi biber
pinch of grated nutmeg
1 scant tbsp plain flour
100-125 ml milk
3 tbsp grated kasar peyniri or Parmesan
salt and freshly ground black pepper

Sift the flour with the salt into a bowl. Make a hollow in the middle and pour in the oil and water using your hands to draw flour in from the sides. Work the mixture into a dough and knead well. Divide it into 4 pieces and roll them into balls. Place on a floured surface, cover with a damp cloth, and leave them to rest for about 20 minutes.

Prepare the filling. Soften the onion with the garlic in the butter. Add the spinach, nutmeg and kirmizi biber, and cook for 2-3 minutes with the lid on. Stir in the flour and pour in the milk, sitrring all the time to make a smooth sauce. Beat in the cheese, and season. Keep the mixture warm.

Now roll the balls of dough into flat rounds, 12-15 cm in diameter. Heat the griddle or sac, wipe it with a little extra oil of butter, and slap one of the flat rounds on to it. User your fingers to shift the dough about, making sure it browns and buckles. Brush the upper side with more oil or butter, and flip it over. While this second side is cooking, spread some of the spinach filling evenly over the coooked side. Once the undreside is cooked, lift the bread with its filling on to a piece of greaseproof paper and roll it up into a cone. Wrap the paper around it to make it easier to hold, and eat while hot.


---

kirmizi biber A ubiquitous spice made from mild chilli peppers. It can be made at home by crushing the long dried peppers and rubbing them in oil. You can roast these oiled flakes in an oven or in a heavy-based pan over a high flame until almost black. The spice is also bought in finely ground form, which is usually hot. If you cannot get the correct kirmizi biber in Middle Easten and Italian shops, it is best to create a comfortable mixture of sweet paprika and cayenne to adapt to the recipes.

kasar peyniri A hard, tangy cheese made from sheep's milk. A strong, dry Cheddar, Parmesan or pecorino are the best substitutes.


---
Recipe taken from Classic Turkish Cookery by Ghillie Basan, Photographs by Jonathan Basan and published by Tauris Parke Books