---
TOM KHA GAI - Spicy Chicken Soup with Coconut Milk
---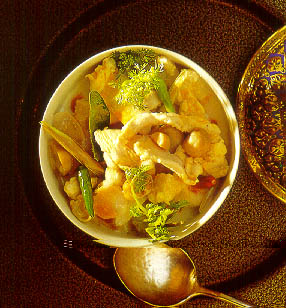 A delightful soup, creamy with coconut milk and fragrant with the elusive flavour of galangal. Diminish the amount of chillies if you dont want the soup to be too hot.
Ingredients
1 cup chicken stock
2 lemon grass
5 cm galangal
3 kaffir lime leaves, torn into small pieces
400 g chicken meat
100 g straw mushrooms
1 tsp salt
4 tbsp lime juice
3 tbsp fish sauce
1/2 tsp sugar
4 cups coconut milk
6 red bird-eye chillies, bruised
Preparation
Place the stock in a pot.
Add the lemon grass, galangal and kaffir lime leaves.
Bring to the boil over medium heat.
Add the chicken, mushroom, salt, lime juice, fish sauce and sugar.
Cook slowly uncovered for 10 minutes.
Add coconut milk and chillies.
Cook gentally to prevent the coconut milk from separating.
Bring almost to the boil, stirring frequently, then remove from the heat and serve.