Ma Yi Shang Shu - Ants Climbing Up a Tree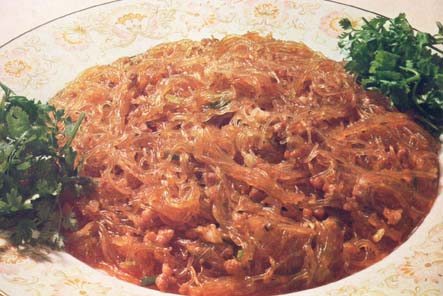 Ingredients:
minced pork 3 oz
cellophne noodle 2 packs
chopped scallions 2 tsp
chopped ginger 1 tsp
hot bean paste (chili bean sauce) 1/2 tbsp
salt 3/4 tsp
msg 1/4 tsp
dark soy sauce 2 tbsp
sugar 1 tsp
corn starch 1 tsp
stock 2 cups
oil 4 tbsp
Preparation:
Cut cellophane noodles with scissors and soak in water for a few minutes. Drain and set aside. Heat 4 tbsp oil in a wok and stir fry the minced pork for 2 minutes. Add the chopped scallions, chopped ginger and hot bean paste. Stir fry for two more minutes. Add the soaked cellophane noodles, then the salt, msg, dark soy sauce, sugar, corn starch and stock. Turn the heat down and let braise for 8 minutes.
---