Chourico - Portuguese Sausage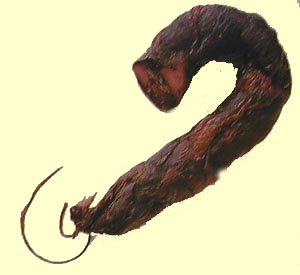 The best of the Portuguese chouricos come from Lamego and the mountainous Chaves with its chestnut forests, across the frontier from the EXTREMADURA, where the Spanish make many of the best of their very similar CHORIZOS
Of the two best-known types of chourico, LINGUICA contains finely chopped or ground pork and is most used in cozidos (meat and vegetable stews), although it may be eaten uncooked.
PAIO is a bigger sausage containing large pieces of pork loin and much resembling LOMO emchado, a thick Spanish sausage made with pork loin.

To make either of these chouricos, the procedure is as follows.
First buy the sausage skins or casings.
In Portugal, these are available either in markets as dried yellow bundles of gut or at a pork butcher.
Wash the skins several times in water with lemon juice, adding a little AGUARDENTE (or bandy) for the last wash.
Turn them inside-out and leave to dry.
Use the smaller intestines for linguica and the larger ones for chourico.

Grind or chop pork tenderloin and pieces of pork fat, and marinate for 2 to 3 days in an earthenware pot with sweet paprika, garlic, salt and PIRI-PIRI.
Transfer to another pot and cover the mixture with white wine (village folk in Portugal use red wine to give the chourico a darker color and a more intense flavor).
Leave it to marinate for another 2 or 3 days; in hot weather the period should be reduced.
Taste the mixture at this point, first frying a little in hot olive oil to see wether more paprika, garlic, salt and piri-piri are needed.
Fill the prepared skins using a funnel of suitable size and tie the sausages at intervals with thread.
Finally,hang up the chouricos to dry and mature in a kitchen with a wood fire.

Piri-piri

This is a Portuguese sauce used in small quantities for seasoning and is made by half filling a small bottle with olive oil, scraping off the upper part of a few small red chili peppers and immersing them in the oil.
It should be left for a couple of months before use, but will then keep indefinitely.
Piri-piri is also available as a prepared powder.
Alternatively, Tabasco sauce can be substituted.
---
from Gastronomy of Spain and Portugal by Maite Manjon, Published by Prentice Hall Press
return to recipe by request