---
Bruchetta con cannellini freschi
---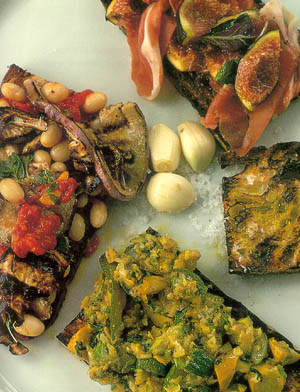 Tomato Bruchetta with fresh cannellini
ingredients
6 slices pugliese bruchetta (see below)
3 large ripe sweet tomatoes, halved
3 teaspoons dried wild oregano
3 small dried red chillies, crumbled
100 ml extra virgin olive oil
Cannellini beans
1.3 kg fresh cannellini beans in their pods
3 large garlic cloves, peeled
1 bunch fresh sage
2 large ripe sweet tomatoes
Maldon salt and freshly ground black pepper
Pod the beans, then place in a thick-bottomed saucepan.
Cover with water, and add the garlic, sage and tomatoes.
Bring to the boil, then turn the heat down, and gently simmer for 30-60 minutes according to freshness.
They must not become mushy.
Drain, remove the sage, garlic and any bits of tomato skin and stalk.
Season with salt, pepper and olive oil.

Squash one half tomato on to each bruchetta, then sprinkle with some of the oregano and chilli.
Drizzle with olive oil, then add a ladelful of warm cannellini beans to cover half of each bruchetta.
Serve immediately.
Bruchetta For 6
6 slices pugliese or sourdough bread, cut 1 cm thick
1 large garlic clove, peeled
extra virgin olive oil

Toast the bread on both slides then lightly rub with the garlic.
Drizzle with extra virgin olive oil then serve with your chose topping.
---
This recipe is taken from RIVER CAFE COOKBOOK TWO BY Rose Gray and Ruth Rogers
Food photography by Martyn Thompson
Ebury Press London
Also found in this book are other bruchetta toppings.
Bruchetta con fave crude - Bruchetta with mashed broad beans
Bruchetta con cavolo nero e olio - Bruchetta with cavolo nero and oil
Bruchetta con erbe secche - Bruchetta with dried herbs
Bruchetta con fave secche e peperonicino - Bruchetta with dried broad beans and chilli
Bruchetta con accighe marinate nel vino - Bruchetta with anchovies marinated in wine
---