Hunan Beef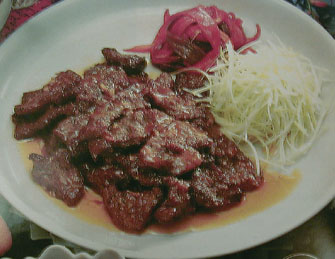 Ingredients
main
375 g fillet of beef
3 chili peppers
1 small pc ginger
8 cloves garlic
marinade
1 egg
1/5 tsp salt
1/4 tsp msg
1 tsp bicarbonate of soda
1/5 tsp meat tenderizer
1 tbsp cornstarch
1 tsp sesame oil
1 tsp oil
3 tbsp water
dredging
3 tbsp corn starch
1-1/2 tbsp water
sauce
1/4 tsp msg
1 tsp dark soy sauce
1/2 tsp sugar
1 tsp vinegar
1 tsp rice wine
1/2 tbsp chicken broth
thickening
1 tsp cornstarch and water
condiment
1/2 tsp sesame oil
1/2 tsp chili oil
3 cups oil for frying
Preparation
Half the chili peppers lenghtwise and remove the seeds.
Mince the ginger.
Mash the garlic cloves.
Pound beef with mallet to tenderize and cut into 20mmx50mmx8mm thick slices.
Marinade for 30 minutes.
Heat the 3 cups of oil for frying.
Dredge the marinated beef in the cornstarch and water.
Deep fry the beef slices till almost done.
Drain off excess oil.
Empty the oil leaving 1-1/2 tbsp in the wok.
Stir fry the chili pepper for 1 minute.
Add the precooked beef, mince ginger and mashed garlic.
Stir fry for further 3 seconds.
Add the sauce ingredients.
Thicken with the cornstarch and water.
Sprinkle the sesame oil and hot chili oil before serving.
---