---
Turnip Cake
---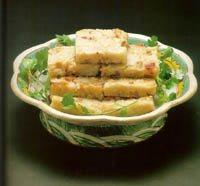 Ingredients
4 lb. white turnips
6 oz. preserved pork
6 oz. chinese sausage
3 oz. dried shrimps
1 oz. coriander leaves
2 0z. scallions
2 tsp. sesame seeds
1 tsp. ground white pepper
3 tsp. salt
2 lb. rice flour
4 cups water
10 oz. lard or crisco
9 cups water for boiling the turnips
Preparation
Peel, wash and clean the turnips and shred them with a electric shredder.

Cut the preserved pork and chinese sausages into 1/4 inch pieces.

Soak the dried shrimp in water.

Wash, clean and chop the coriander leaves and scallions.

Toast the sesame seeds to release the aroma.

Mix the rice flour with the 4 cups of water in a larg basin big enough to hold all the ingredients.

Put 9 cups of water in a wok or large saucpan

Put in the shredded turnips and to the boil

Let the turnip boil for 15 minutes.

Pour the boiling turnip water and all into the basin of riceflour mix.

Stir and mix well.

Add salt, preserved pork, chinese sausages, dried shrimp and pepper.

Lastly, add the lard or crisco.

Mix well all the ingredients.

To taste the batter, fry a tablespoon in a shallow frying pan till cooked through.

Adjust the seasoning and try again.

Oil the inside of a turnip cake tin, or other cake tin of about 10 inch diameter and 3 inch high.

Pour the mixture into the oiled container.

For steaming, use a large stainless steel work with a lid large enough to cover the container used.

Half fill the wok with water.

Invert a bowl or use a pair of wooden or bamboo chopsticks at the bottom as support for the container.

Bring the water to a rolling boil.

Place the mixture on the support.

Steam the mixture over high heat for one and a half hours.

As the boiling time is long and high heat is used, watch the waterlevel and fill up with boiling water from time to time to prevent the steaming water from drying out.

When done, sprinkle on top the toasted sesame seeds, coriander leaves and scallions.

When cool, cut into 3 inch wide by 1/2 inch thick slices and fry in a shallow pan with a little bit of oil till slightly brown on both sides.

Unused portion can be stored in the freezer for a long time.
---
---