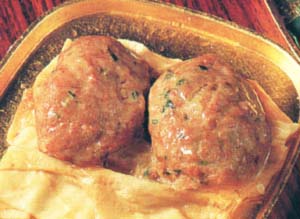 Steamed Beef Dumpling

Ingredients:

1 lb beef
2 oz fat pork
2 oz water chestnut flour
3 tsp salt
2 oz peanut oil
6 tsp sugar
1 oz dark soy sauce
1 tsp monosodium glutimate
3 tsp oyster sauce
2 tsp rice wine
3 tsp minced fresh ginger (for juice)
1 tsp minced dried tangerine peel (soak to soften before mincing)
2 oz salted vegetable
2 oz coriander
2 tsp sesame oil
1-1/2 tsp soda (for tenderizing beef, optional)
white pepper

Preparation

Slice, then mince the beef.

Cut the fat pork into about 1/8 inch small pieces.

Mince the preserved vegetable and soak in cold water for one hour to remove saltiness. Remove from water and dry.

Place the minced beef in a bowl and add the soda (you can leave out the soda if the beef is tender). Use you hand to churn the beef, lifting it up and slapping it back into the bowl several times until the beef becomes sticky. Add the salt and 2 oz of cold water. Mix again, churning and slapping the beef for two more minutes. Add the ginger juice, rice wine, sugar, dark soy sauce, msg and oyster sauce. Mix well.

Mix the water chestnut power with 2 oz of cold water and add to the beef. Mix well. You can add some more water if the mixture is too sticky.

Add the minced preserved vegetable, minced tangerine peel, peanut oil, coriander, sesame oil, pepper and the fat pork. Churn and slap for two more minutes.

Form the beef mixture into meatballs the size of a large egg. Bring the water to a rolling boil. Place the meatballs in a small plate, place in a bamboo steamer and steam for 7 minutes over high heat.

Notes:

1. Remove sinews and fat from beef before mincing.

2. When mixing, first add soda, water and salt. You need to forcefully lift and slap the beef till sticky to make the finished product crunchy and smooth. Take care when addeing the water. You can add up to 5 to 6 oz of water. Normally you need about 4 oz. If there is not enough water the meatballs will not be smooth and crunchy.

3. When mixing, do not add the fat pork and peanut oil too early, otherwise the mixture will not bind.


---
back to Recipes by Request