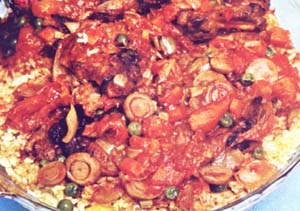 Baked Pork Chop and Rice
Ingredients
for the fried rice
8 bowls of rice
1 egg
1/2 tsp salt
2 tbsp oil

for the pork chop
8 slices of pork chop
2 tsp salt
1/2 tsp sugar
pepper
2 tsp chinese wine
1 garlic, mashed
1/2 cup flour
2 eggs, beaten
1 cup bread crumbs
oil for deep frying

for the sauce
4 tomatoes
1 onion
1 clove garlic mashed
1 tsp salt
1 tsp sugar pepper
4 tbsp tomato ketchup
1 tbsp worchetershire sauce
1 tbsp cornstarch
1/2 cup water
1 tbsp oil

preparation

Beat the pork chop with a mallet or back of chopper to loosen.
Marinade the pork chops in with salt, sugar, pepper, wine and garlic for half an hour.
Dredge the pork chops a piece at a time, first in flour, then in the beaten egg and finally in the bread crumbs.
Heat oil for deep frying.
Deep fry the pork chops in medium high heat till slightly golden brown.and set aside.
Chop into biting pieces when cool enough to handle, taking care not to break off the breadcrumbs.
Set aside

Chop up the onions.
Chop the tomatoes into smal pieces.
In a saucepan saute the garlic and the onions in oil till transparent without browning.
Add the chopped tomatoes.
Sautee till the the tomatoes begin to soften.
Add tomato ketchup, salt, pepper, worcestershire sauce.
Reduce heat and let braise for 15 minutes.
Thicken sauce with the cornstarch and water.

Heat oil in wok till smoking.
Add the eggs.
Add cooked rice and stir fry over high heat.
Add salt to taste.

Put the fried rice on a large oven proof dish.
Place the fried pork chop on top of the rice in a single layer.
Pour the sauce evenly over the pork chop.
Bake in the over for 5 minutes or till the sauce is slightly brown on top.


---