Braised Duck With Tianjin Cabbage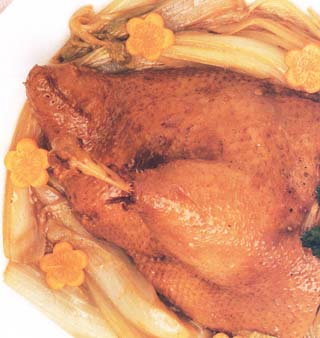 Ingredients:
duck about 1 1/3 Kg
dark soy sauce
rice wine
Tianjin cabbage (Chinese celery cabbage) 650 g
ginger 3 pcs
shallots 3 pcs
garlic 3 cloves
sweet soya bean paste 1 tbsp
salt 1 1/2 tsp
oyster sauce 3 tbsp
dark soy sauce 1/2 tbsp
sugar 3/4 tbsp
water 6 cups
sesame oil
ground white pepper
oil for deep frying
Preparation:
Wash and dry duck.
Rub the entire duck with a little dark soy sauce and rice wine.
Deep fry till golden brown.
Drain off excess oil.

In a sucepan or wok large engough to hold the duck and the cabbage, fry the chopped shallots and garlic in two tbsp of oil.
Add the ginger and stir in all the remaining ingredients.
Bring to the boil.
Add the duck to the sauce. Cover the saucepan and braise in medium low heat for 2 hours.
Half an hour before the finish cooking time, add the Tianjin cabbage to the saucepan and continue cooking till finish. If there is too much water, leave the lid open and let the sauce evaporate, leaving about one cup. The sauce can be thickened with conrnflour and water if desired.
---